Boston's 2012 Tour Photos
Boston 2012 Tour Photographs are now available. Photographed in Grand Prairie and Austin Texas July 10-11, 2012 By Jon Viscott. These high-quality photographs are printed on gallery quality metallic paper for a simply stunning presentation. Treat yourself to a 8" X 12" print with incredible detail. Click here to view the tour photos.
Last 2 tweets from gonnahitcharide:
Interview the classic rock band's Gary Pihl.
By David J. Spatz?
Gary Pihl could be the poster child for why drugs aren't necessarily considered de rigueur in the rock 'n' roll culture.?
 
Pihl's drug-free lifestyle — not to mention his solid guitar licks — set in motion a chain of events that led to the gig of a lifetime. For nearly 30 years, Pihl has been a guitarist with the long-running band Boston.?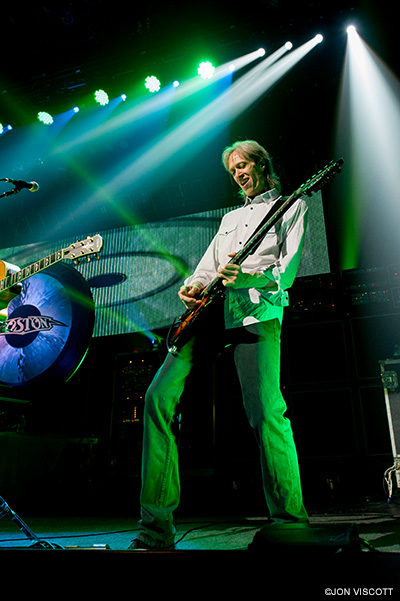 He earned the spot the old-fashioned way, by working his way up through the ranks as a member of Sammy Hagar's first band, which opened for Boston during its 1978-79 tour.?
 
Pihl had been playing in a band called Stark Raving Mad in the San Francisco Bay area, and they were looking for a new singer. Pihl knew that Hagar had recently left the band Montrose, so he reached out to Hagar to see if he'd be interested in joining Stark Raving Mad.?
 
Thanks, but no thanks, Hagar told Pihl. Hagar was going to put together his own band and he asked Pihl if he was into drugs. Pihl told him he was clean, then wondered why he asked the question.?

"Sammy said the last [guitarist] he had was [into drugs] and he was looking for someone who wasn't," Pihl (pronounced PEEL) recalls. He offered Pihl a spot in his new band, but Pihl wasn't sure whether to take it.?
 
Just then, Hagar's manager called with some news that couldn't have been timed any better. Boston was looking for an act to open for them during the last two weeks of their first-ever tour, and if Hagar could find a guitarist, the gig was his.?
 
A few weeks later, Pihl was on stage with Hagar opening for Boston, which was watching the new band from the wings.?
 
"That would have been enough of a thrill for me," Pihl says. "It was like, 'Wow, there they [Boston] are, I'm like this close.' It was a great time to be in a rock band."?
 
Boston, which already had Top 10 hit singles with "More Than A Feeling" and "Don't Look Back," liked Hagar's band as its opening act and signed them on for the next two years.?
 
If hooking up with Hagar was one significant career turning point for Pihl, then befriending Boston founder and technical genius Tom Scholz was another.?
 
It was during the second Boston tour that Scholz and Pihl discovered how much they had in common, since both had set up less-than-primitive home recording studios.?
 
The biggest difference, though, was that prior to his music career, Scholz had earned a bachelors and masters degree in mechanical engineering from the Massachusetts Institute of Technology, and Pihl had ... well, he'd heard of MIT.?
 
Scholz then went on to earn 29 patents for products he invented while he was a senior product design engineer for Polaroid.?
 
Scholz is a key reason why Boston has been able to consistently maintain its sound over the past 35 years, even with personnel changes. And not simply because most polls rank him in the Top 100 guitarists and keyboard players of all time, either.?
 
"The last secret to [Boston's] success is that we all use amplifiers that Tom built," Pihl, 61, explains during a phone call ahead of Boston's Saturday night, July 21, gig at the Trump Taj Mahal. "He had his own company called Scholz Research and Development, and he [invented] the Rockman guitar amplifier. To this day, we're the only band in the world that plays its own amplifiers."?
 
One of Pihl's greatest pleasures as a musician — and as a member of a popular band that's well into its fourth decade — is seeing the audience reaction to some of Boston's best-known works.?
 
Pihl isn't a rock musician who's become jaded by the lifestyle, culture and rewards of the business. He can still appreciate a special moment, which usually comes when the band performs its hits songs, including 1986's "Amanda," which was Boston's only No. 1 single and was the first hit Boston single that Pihl played on.?
 
"So many people come to our shows and they're singing along to the music, and if we get to talk to them afterwards they'll tell us how they were on their first date and how much the songs mean to them," he says. "And it chokes me up, it really does. We're up there playing those songs, we see people looking up at us and singing and us smiling. It's a wonderful feeling."


blog comments powered by

Disqus