Boston's 2012 Tour Photos
Boston 2012 Tour Photographs are now available. Photographed in Grand Prairie and Austin Texas July 10-11, 2012 By Jon Viscott. These high-quality photographs are printed on gallery quality metallic paper for a simply stunning presentation. Treat yourself to a 8" X 12" print with incredible detail. Click here to view the tour photos.
Last 2 tweets from gonnahitcharide:
Austin Live Music Concert Review - BOSTON
ALM Concert Review - BOSTON
by Greg Testerman

Dudley & Bob Celebrate 20 Years as the Iconic Band Rocks ACL Live on Wednesday Night!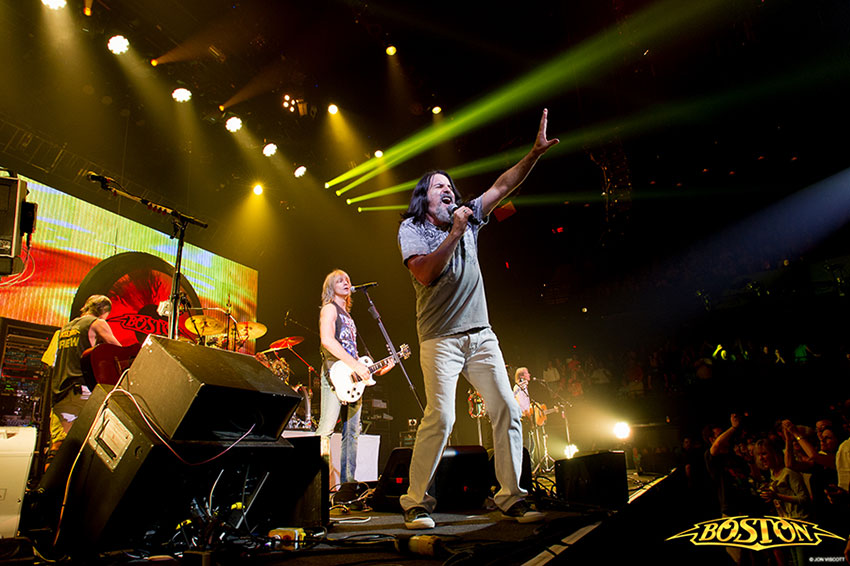 ©Jon Viscott
You don't see a Boston concert coming to town very often. In fact, this is only the bands eighth tour in they're approximate 36 year history. But on Wednesday night, the ship landed at ACL Live in Austin, captained by the bands amazing creator and mastermind, Tom Scholz.

For those of you, not familiar with the venue, it holds about 2500 fans and it's where they tape the "Austin City Limits" television show. The theatre is built for sound and production and I've really been looking forward to hearing the full thrust of the Boston sound with these acoustics. Along with this rare concert event, KLBJFM, a popular classic rock radio station, was celebrating the 20th anniversary for their popular morning show (Dudley & Bob), so I can say with confidence - it was a party within a party!

The casually dressed band walked out on the dark stage about 8:15pm. Tom started the show off with a few patented licks with his amazing guitar, a customized Gibson Les Paul Gold Top (he named it Mighty Mouse) and when combined with Tom's custom effects, delivers that incredible handcrafted, homemade tone that makes the Boston sound so unique. The show appropriately opened with Rock N Roll Band, Smokin', and Feelin Satisfied, immediately lifting the fans and taking us back to the first and second albums, where the journey began. The band waisted no time and continued to delight the capacity crowd with hits like Piece of Mind, Don't Look Back, and Amanda. Every song was a classic and the band was tight, the songs were on time, and everything sounded nice and crisp. I guess we shouldn't expect anything less from Tom Scholz.

Boston has made improvements this year in the vocals department. Many of you know about the 2008 addition of singer Tommy DeCarlo, the Home Depot employee who sent demo tapes to Tom and got the gig as the bands lead singer - a great story. He joined the band for the 2008 tour. This year, the band added David Victor - a great singer and guitarist and could probably do most of the lead vocals on his own if asked. The combination of these two excellent voices, really complimented the Boston sound during the show and helped us forget, if just for a while the tragic loss of Brad Delp in 2007 - the bands original singer and one of the very best rock and roll singers ever. You can't top that, you can't replace it, you just do the best you can and these guys really rocked it in my opinion. Tommy has really improved in his roll as the bands lead singer and has turned into a solid performer. He now looks and sounds like this is where he belongs.

For this tour, Boston also announced new additions to the bands heartbeat by bringing back Curly Smith on drums who toured with the band in '95 & '97, and Tracy Ferrie on bass from the christian metal band Stryper. Excellent additions indeed.

Tom Scholz is a true genius. He is the mastermind behind the band and created the bands sound and tone in his basement studio. Tom wrote practically all Boston material and plays just about every instrument on the studio albums with the exception of the some drum tracks and a couple lead guitar licks. He sings a little which is plenty. He has modified his guitars to stay in tune better and completely redesigned two Echoplex tape delay boxes he calls his hyperspace pedals. The MIT graduate has custom built just about all the amplifiers and effects the band uses in concert. This is why the Boston sound will always be so unique and identifiable.

On the other side of the stage stands Gary Phil. You gotta love Gary! I've had the pleasure of meeting him twice and Gary is great guy and still one of the best guitarist out there. Most of us first saw Gary playing with Sammy Hagar as Sammy became a star in the late 70's and early 80's. When Sammy became the front man for Van Halen in 1986, Tom was completing the bands third studio album - Third Stage and offered Gary the gig. Gary's been with the band ever since.

I would have to say the best addition to the band for this tour is David Victor. David is a great singer, excellent guitarist, and brings a new energy to the Boston show. He knows all the material from being in Boston/Styx tribute bands in California. He sang the hit Amanda flawlessly and got a nice ovation for his efforts. I'm a big fan...

The band played just about everything you would expect to hear at a Boston show with maybe a few exceptions. I loved the jam session after "More than a Feeling" which is actually an older instrumental that the band plays during every tour dating back to the '70's. I was moved by the power and light show during "The Launch" from the Third Stage album. Walk on was also pretty cool as it gave Tom a chance to really show his skills as a keyboardist. Highly skilled indeed. I also liked Used to Bad News on the encore which displayed the lead guitar talents of David Victor.

The band closed the show with Party from the Don't Look Back album. I think the crowd got there monies worth and left the building Feelin Satisfied. There are rumors of a possible studio album on the way from the band in the next year or two but you really never know. It will be interesting to see where the ship will land next...GT

Austin Set List
 Rock N Roll Band
 Smokin'
 Feelin' Satisfied
 Peace of Mind / It's been such a long time
 Cool the Engines
 Surrender to Me
 Don't Look Back
 Something about You
 Amanda
 We're ready
 The Launch
 More Than A Feeling (Instrumental Jam)
 My Destination
 A New World
 To Be A Man
 Walk On
 Foreplay / Long Time


Encore
 Used to Bad News
 Party
blog comments powered by

Disqus