Page 1 of 2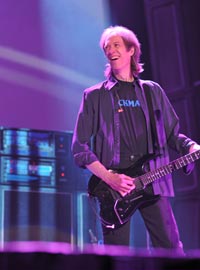 Gary Pihl knows he has one of the coolest jobs in America.

Since 1985, Pihl (pronounced Peel) has played guitar for Boston, a band noted for its driving guitar sound that many have tried to imitate, usually with little success.

Boston will perform at 8 p.m. today (July 6) at Coushatta Casino Resort as part of its first tour in four years.

"I can tell you exactly when I heard that sound for the first time," Pihl said in a telephone interview. "I was driving near my home in the San Francisco area. I got to a stop sign and I heard "More Than a Feeling" coming out of the car ahead of me."

"More Than a Feeling" was not Boston's biggest hit, topping at No. 5 on the Billboard Hot 100 in 1976, but the song introduced the Boston sound pioneered by group founder Tom Scholz to music fans. It was the first track on Boston's self-titled 1976 debut album that sold more than 17 million copies.

Pihl, who was 26 in 1976, already was a successful musician in the San Francisco area. He joined singer Sammy Hagar's band in 1977, just in time for the band to be hired as the opening act for the final few shows of Boston's tour that year. Hagar and his band were hired as the opening act for all of Boston's 1978 tour.

"You can say I have been with Boston on every tour they ever had," Pihl said. "I was just on the opening act for the first two tours."

When Hagar disbanded his group in 1985 to join Van Halen, Pihl wasn't out of work long. Scholz was finishing Boston's third album, "Third Stage," and called in Pihl to help.

"It was supposed to be for one song," Pihl said. "I ended up packing up the wife and kids and moving to the Boston area."

Pihl became a key figure in a band that does not put out albums nearly as often as many groups -- there have been just six albums, one of them a compilation -- and does not tour endlessly either.

"What was nice about that is that I was able ebony porn to be home with my wife and kids," Pihl said.
blog comments powered by

Disqus