Tommy DeCarlo Reveals A Story:
How He Met & Fell In Love With His Wife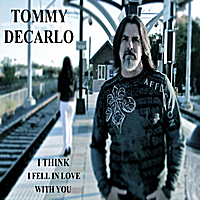 Perhaps you've heard of Tommy DeCarlo's amazing story about how he went from being an employee at the Home Depot to touring North America as the lead singer of the multi-platinum selling group BOSTON? Tommy was literally transported from being a fan, weekend karaoke aficionado, and performing only at private family functions to singing alongside some of the greatest classic rock musicians of all time in some of the largest and iconic venues on the touring circuit.
Following the 2008 summer tour, Tommy sat down at his Yamaha keyboard in his home music room in Charlotte, N.C. to compose something. What poured out ebony porn of him was an autobiographical song about how he met his wife of 23 years, Annie.
The story goes back to 1987 when native upstate New Yorker Tommy was visiting his grandparents in Florida. Chance brought Tommy and Annie to the same restaurant on the same night and there was a strong and immediate attraction. However given Annie's shy nature, the fact that she had no telephone, and the geographical distance, a year-long correspondence via mail ensued. In the age of texting and instant messaging, not to mention online dating, the randomness of the couple getting together permanently was like destiny. Given their very young ages, 20 and 22, it's all the more extraordinary they reunited, got married, raised two wonderful adult children and continue the romance. They have literally been together their whole adult lives and have done and learned and experienced most of life's biggest milestones together.
Asked if he believes in, "love-at-first-sight," DeCarlo could not agree more, "Absolutely, that's exactly what I felt the first time I laid eyes on her!"
Tommy recorded the song and wants to share it with others and hopes that it will inspire them to tune in to their own inner voice and follow it. "I'd be honored if this song would be the favorite of other couples who have had the same experience as me," he says.
Hear Tommy's song "I Think I Fell In Love With You" (Featuring Gary Pihl on guitar) along with a special bonus track.
www.cdbaby.com/cd/tommydecarlo2
blog comments powered by

Disqus