Boston's 2012 and 2008 Tour Photos
Boston 2012 and 2008 Tour Photographs are now available. Photographed in Grand Prairie and Austin Texas July 10-11, 2012. NOW Available Las Vegas June 28, Los Angeles July 1 and Del Mar July 3, 2008, By Jon Viscott. These high-quality photographs are printed on gallery quality metallic paper for a simply stunning presentation. Treat yourself to canada cialis no prescription a 8" X 12" print with incredible detail. Click here to view the tour photos.
Page 1 of 4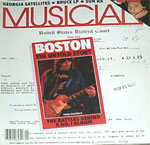 Tom Scholz makes records slowly. Very slowly. He once estimated he had been working on his first one for seven years before it came out as Boston. The second Boston album took a mere two years, but Scholz insists only the first side was really done. His third and most recent album appeared eight years after his second. There are a number of reasons why Scholz needs this much time, but the levitra prescription drugs simplest is that the man is a compulsive--some would say neurotic--perfectionist. He wants it done Right. This means that, with a few key exceptions, he does it Himself.

"It's hard for somebody to put down music the way I want to put it down," he explains, "I listen to exactly how every note is played, not just the pitch, the volume or the sound, but the attack, the intonation, and all the little nuances. And if it's not the way I think it should be, then I want to get it done over again and have it done right. When it comes to recording, I'm one of the where to buy viagra in canada only people I know that can put up with me."

Among those who've had a hard time putting up with Scholz is CBS Records, who have a three-year lawsuit against him for failure to deliver Boston's third album anywhere near schedule. After a few years of waiting and begging and threatening, CBS cut Scholz's royalties and sued his ass off. When he finally completed the new album--Third Stage--this year, Scholz gave it to cheap tramadol site MCA Records. It went straight to number one.

Also on the outs with Scholz are Fran Sheehan, Barry Goudreau and levitra non generic canada Sib Hashian, three of levitra tablet the four other members (now ex-members) of Boston. Fran, Sib and Barry all split with Tom during the long, long wait for LP number three. The fourth Boston, singer Brad Delp, is still in the Scholz camp. Fran and Sib are, like CBS, battling Scholz in court over who broke promises to whom. (Barry sued and settled early.)

But hey--don't let that give you the idea Tom Scholz is hard to work with! Okay, maybe he's a little bit of a Felix Ungar. Maybe he's just a little too...picky2 "It isn't pickiness, the way people would think," Scholz insists. "If you use a word like picky, people think of some guy who has no tomato spots on his shirt and his hair is combed just right. Obviously I'm not a picky guy-anybody that's seen my car, or me, or anything about the way I live would see that The only thing I'm picky about is something I'm making. I don't know. Something happens to me I have to get into it I'm driven to not let something go that I think I can do a little better"

Now in a mellow, democratic culture like ours, this is considered uptight dictatorial behavior. Especially when you are a member of a five-piece band. But consider this: Tom Scholz has never made an album that sold less than four million copies. His first one just broke nine million, and Third Stage is averaging 600,000 copies a week. Call the guy half the levitra prescription label names in a psychology textbook, but don't say he doesn't know how to only today make a record. And don't, don't try to hurry him along. CBS's lawsuit precipitated a savage legal war that may alter entertainment law history, but failed to get him moving a whit faster.

"Anybody who's involved in something that generates millions of dollars is going to be besieged by the vultures, the opportunists, the con artists," says Scholz. "I've watched people do that around me--like early in Boston's career-and I made a mental commitment to myself that I was going to be absolutely a brick wall. And I stuck to that. My intention was always to be the one guy they couldn't bully around. I was going to stand up to compare cialis prices online it. And so far it's worked. The line of people out there who are just looking for money is endless"

This suspicious, litigious environment made it hard to get to the bottom of the Boston story I first interviewed Scholz in 1982 for an article on his prize invention the Rockman. In December of by levitra price 1985 I was hired by Tom's office to debrief Scholz and write liner notes for Third Stage. The notes I wrote were not used on the album: Scholz naturally felt compelled to write his own. In the weeks after the LP was released and hit the top, Scholz began to get cold feet about a promise to give Musician an interview. Sources suggested he liked the canadian pharmacies nexium viagra idea of creating a mystique around Boston, of having no videos and buy cheap cialis free shipping no articles longer than daily newspaper features.

Scholz's office got wind Musician was planning to run a Boston story anyway, and got nervous that we'd use information from my liner-notes interview. (Hard to say what worried them--possibly some less than flattering characterizations of ex-Boston members and of a CBS executive.) They offered Musician a deal: a new interview with Scholz in exchange for a written promise to not use any of the material from the liner notes session. We agreed and did a second interview with Tom at his company's Waltham, Massachusetts offices. A few days after that I interviewed Scholz's lawyer, who got wind that we had copies of the court documents from the CBS vs. Boston case. The next day I got a call from Scholz saying he felt maybe the last interview had not gone so well--I should come to his home studio for yet another session. By the end of that interview, Scholz seemed to have opened up a lot.

Fran Sheehan, the deposed Boston bassist, said this about the general state of http://ihrcanada.com/generic-sales-viagra paranoia: "The lawsuit thing has gotten so heavy that it's not so much being afraid of saying something as the fear of having to spend five years in court trying to explain trivial situations that might have arisen even through the article I'm talking to you about. I'm just trying to be fair about everything that happened... but I'm doing just what my lawyer told me not to do: another interview!"

The members of Boston were 60s kids, and the group's transformation from aspiring musicians to legal combatants reminds Sheehan of "a pendulum swinging from high ideals to a system of conflicting values." Maybe it's all part of the Woodstock generation growing up?

"I don't know whether we're growing out or growing up or growing down," Sheehan says. "Whether this is a phase of 100 pill tramadol a generation---or a degeneration."

Tom Scholz was raised in Toledo, Ohio. Although he had an early enthusiasm for classical music ("for its brute force power"), he discovered rock in his teens: "I liked Iron Butterfly, the Kinks, the Yardbirds, that fired-up stuff. I got into rock 'n' roll because they finally got some power into it. Up until that point I couldn't stand pop music, except for a couple of vocal groups like the Byrds and the Hollies."

Admittedly "not outgoing," young Scholz exhibited parallel penchants for basketball and the sciences, and went to MIT around 1966 to study engineering. He stayed on in the Boston area to work for Polaroid. After hours, Scholz was recording songs in a friend's basement, later building a studio with him in Watertown. The friend was a drummer/keyboardist named Jim Masdea, and above all he shared with Scholz a curiosity about pure sound:

"When Jim and I started working, we really enjoyed the http://organicschools.com.au/lowest-viagra-price-at-online-pharmacy music," Scholz says. "There was never any time when he was interested in going home or getting something to eat or 'When are we gonna cut this?' He was just there. Jim wasn't a 'practice-eight-hours-a-day' drummer. He's a part-timer, like me. We were both just very happy to be there doing it for hours and hours. And that was a lot of how those original Boston recordings came to be."

As early as 1971, Scholz and Masdea were bringing "eight hours-a-day" musicians to area studios to make demos; these were multi-year veterans of Boston's club wars, and included bassist Fran Sheehan and villagepediatrics.com guitarist Barry Goudreau. Although Scholz alludes to some club experience of his own, Sheehan thinks that Scholz played out rarely if at all. This set up a certain dichotomy between Scholz and Masdea's experimental values and the tough, sometimes quietly competitive values of the club players. Scholz himself says, "Everybody who's ever picked up an instrument has a time in his life when he's worried about being accepted as a musician for what he's playing. It was hard to do--is he going to be accepted by the band he's trying to get into? There certainly was a time for me."

Fran Sheehan agrees that Scholz had a lingering insecurity about his instrumental abilities but feels it was completely unfounded: "Tom used to underrate his own guitar playing more than the rest of us did. He'd get down on himself about his playing a lot and I'd go, 'Man, you are one of the finest melodic players in the country! You've got the ability to do anything.' Half the speed merchants out there like Eddie Van Halen, maybe once a month wake up with the melody ideas that he has going in his head."

Scholz maintains to this day a mistrust of buy online viagra where musicianship for its own sake, and even uses it as a cornerstone for his insistence on playing most instruments himself: "I'm not a fanatical guitar player, I'm not gonna do something amazing in a physical sense. The important thing is to know how your playing is going to fit the song. You are not a good judge of what you are doing while you are playing. Quite often I'll do something that I think might be a real impressive' lick and I'll play it back and it has nothing to do with the song, doesn't take it any place. Even though it makes me sound like a hot-shot guitar player, it gets erased. I don't like to argue about whether someone should get to play more here."

Among the visiting veterans that made up Scholz's shifting studio band, no one caused as much of a stir as Brad Delp, a bearded Beatles fan from Danvers who had worked with Sheehan. "I showed him the generic cialis canadian part and he started in," Scholz recalls. "Right then and there I thought, 'This is a guy I have to hang on to.' It wasn't the same close relationship that I had with Jim, not collaboration in the sense of two people working in the same room, trying things. Normally he would come up with some part on his own and viagra uk sale I would do another part and the two would fit together. But the nice thing about Brad was his incredible ability in the studio. He was a master at controlling his voice--he could do things over and over, changing one note and doing everything else the same. He's a natural overdubber, he can perfectly match what's already on tape, he can sing harmonies with himself and keep dozens of parts in his mind. We had a close working relationship---it was almost like mental telepathy. When I knew he hadn't hit something right or we needed a different line, so did he. And he also had real good ideas."
blog comments powered by

Disqus